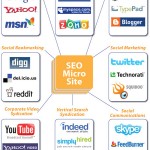 I'm currently putting together thoughts on a new book about social marketing.  In doing so, I'm trying to figure out if the title should be very technical sounding title for the savvy-minded, or if it should be a more common sense approach to socializing and how it relates to every day people.  The book will cover the many new emerging social networks, how they work, which ones to be one, and for what reasons, as well as it will touch on how to apply those to various strategies on the web today.
I had a couple of thoughts about the title and I'm going throw them out here. It would be nice to hear from some of you about which ones you like or if you have a suggestion of your own please feel free to write a comment.
Proposed titles for my new book about social marketing.
1. Understanding Social Marketing
2. Social Marketing 101
3. Searching Social Marketing
4. Blogs, Feeds, and Social Oh, My!
5. Your Important, Socialize It!
6. Stop Emailing, Start Socializing
7. Make Money with Social Marketing
8. Social Marketing and SEO
9. What Social Marketing Actually Matters
10. Digg It, Buzz It, Twit It, Feed It, Just Make Sure To Socialize It
I look forward to hearing any other ideas or opinions on what you think a good title for the book would be.